PLEASURE GARDEN | Beard Oil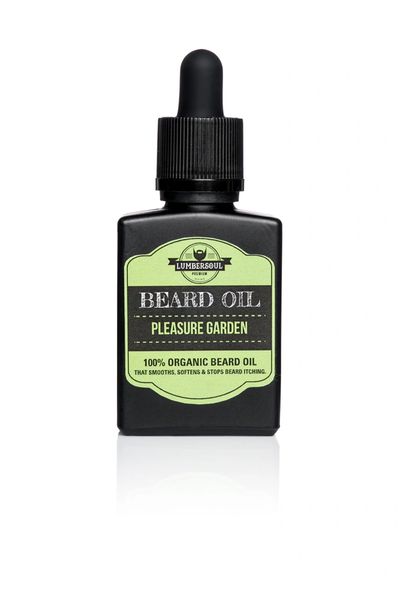 PLEASURE GARDEN | Beard Oil
PLEASURE GARDEN | BEARD OIL 30ml
LUMBERSOUL BEARD OIL is a natural blend of beard loving oils that have been specially formulated and blended to hydrate, smooth and enhance the look and feel of ALL facial hair. We have designed our beard oil to absorb quickly and not leave your face an oily, greasy mess.
Another incredible benefit of using LUMBERSOUL BEARD OIL is that hydrates not only your facial hair but the skin beneath the hair. This will eliminate beard flakes and itchiness associated with rocking a killer beard (of any length and manliness).
SCENT: PLEASURE GARDEN, an amazing mix of lavender and patchouli essential oils that creates a nature and forest scent.
INGREDIENTS: Jojoba Oil, Castor Oil, Sweet Almond Oil, Patchouli essential Oil, Lavender essential Oil, Vitamin E (Tocopherol).
DIRECTIONS: Apply 4-6 drops of the beard oil into your palm and rub it between your hands. Massage your beard and skin gently. To finish, groom your beard down and style as always. Test for allergies first.